An inside look at how Purdue University hired Orientation Leaders to welcome the largest incoming class.
Located in West Lafayette, Indiana, Purdue University is ranked as one of the Top 5 Most Innovative Universities in the United States by U.S. News & World Report. The University is home to over 45,000 students and spans over an impressive 2,307 acres. Purdue is most well known for its programs in engineering, education, pharmacy, audiology, business, nursing, and speech pathology. With over 2,000 full-time faculty teaching and conducting research, Purdue is committed to fostering and maintaining an inclusive community. While professors have had to shift teaching methods to accommodate for online studies, so has the Orientation Department.
See what this department did to navigate the move to virtual and why they want to keep their new way.
The Challenges
A Time-Consuming Process
Scheduling several 10 hour days for initial interviews.
COVID-19 Restrictions Prohibited Traditional Interviewing Method
Speed interviews and group interviews.
Expecting Largest Incoming Class
More students meant more employees were needed.
Initial Method
Lengthy process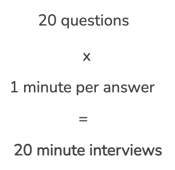 myInterview's Solution
Designed to optimize efficiency without compromising quality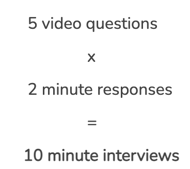 Numbers Don't Lie
Real results collected by Purdue University

The Insights
How myInterview's cutting-edge technology transferred into real life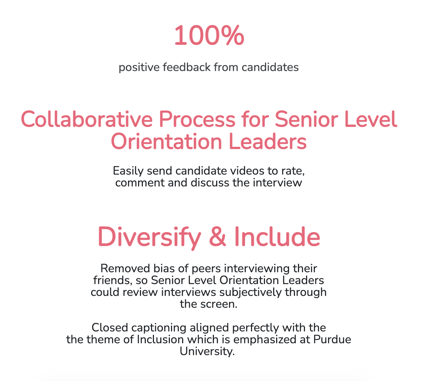 Hear it From Them
"With myInterview, we were able to expand the opportunity of becoming an Orientation Leader to individuals who may have been too shy to complete our former process. The role of Orientation Leader typically attracts extroverted candidates, but because the applicants were able to perform the video interview on their own time, they felt less pressure in the moment and were ultimately stellar candidates. We hired more candidates that may not have passed the first round of interviews in the past. We are confident that with proper training, they will be excellent Team Leaders. The quality of our orientation leaders has changed, for the better."

- Cam Hoyt, Program Coordinator of Orientation Programs

See why so many businesses hire with video