It's no secret that the job market has become increasingly competitive. Requirements are often too specific and necessary experience seems almost impossible to meet. This can make the job search process overwhelming. However, it's important to remember that this experience isn't just about the recruiters and the organizations that they represent, it's also about YOU. The following offers some insight into how to make finding a job more manageable and even gratifying.
The Truth Is...
It's common practice among job seekers to spend hours upon hours applying to jobs. On average, you might fill out 200 job applications and only be invited to interview for 15 positions.

To make this harsh reality milder, follow these tips:
Create a generic cover letter that fits most, if not all, of the jobs that you plan to apply for.

Individualize the first and last lines of your cover letter. This is how you will get the recruiter's attention! Job offers normally attract hundreds of resumes so the middle portion is not as influential.
Now that you've finalized your application, next step is:
How to Apply
There are many different paths you can take such as applying through LinkedIn, job boards, or on the company's website directly. Every company has a method that they prefer. Normally, this is specified on the job posting (be mindful of this!). The website that you choose to apply through is ultimately up to you, but for a more straightforward approach, try utilizing job boards. Over half of all job applications come from these websites. Job boards are easy to navigate and allow you to filter for jobs that fit your needs and wants such as the industry, pay, location, and more.

However, there are common mistakes to be aware of:
Do not apply to multiple positions at the same company. To best avoid this, keep a record of which jobs you apply for and at what company.


Make Yourself Stand Out
One of the most frustrating parts about the job search process is that you only get one chance to showcase yourself and oftentimes messaging is lost through the pieces of paper that you submit.

To avoid this, consider different ways to make your application more unique and thoughtful.
Showcase your personality through your resume. Include your professional passions and motivations. You could even mention some of your interesting hobbies.


Curate a personal website and include the link! Elaborate on your expertise, include your portfolio, and make it an interactive experience.



Create a video that showcases your USP's (unique selling points)

and why you are interested in the position. Keep it short and concise!
Personalized videos allow you to connect with recruiters in a way that paper and online applications do not. It may seem new and different, but it could be the reason that you catch a recruiter's eye.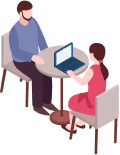 Network, Network, Network!
Sending in your job applications is only half of the fun. To make your job search process more efficient, spend equal amounts of time networking as you do applying for jobs online. This does not mean you should simply add more connections on LinkedIn. When you network, reach out to people that are in your desired industry or could help direct you to someone who is. Up to 85% of people are hired through networking and oftentimes, applicants who are referred by someone that they know are hired 55% faster than those who apply through a job board.

If you are new to networking, consider the following:
Do What Works For You
There is no perfect formula for a short and successful job search. The best solution is to do what is best for YOU. Whether this means applying to thirty jobs a day, creating unique introductory videos, or networking. At the end of the day, your experience matters most and your priorities should coincide with your values. It might be challenging, but you can do this!
All it takes is one job.
Hiring? Talk to us and find out how you can create a more approachable candidate experience.